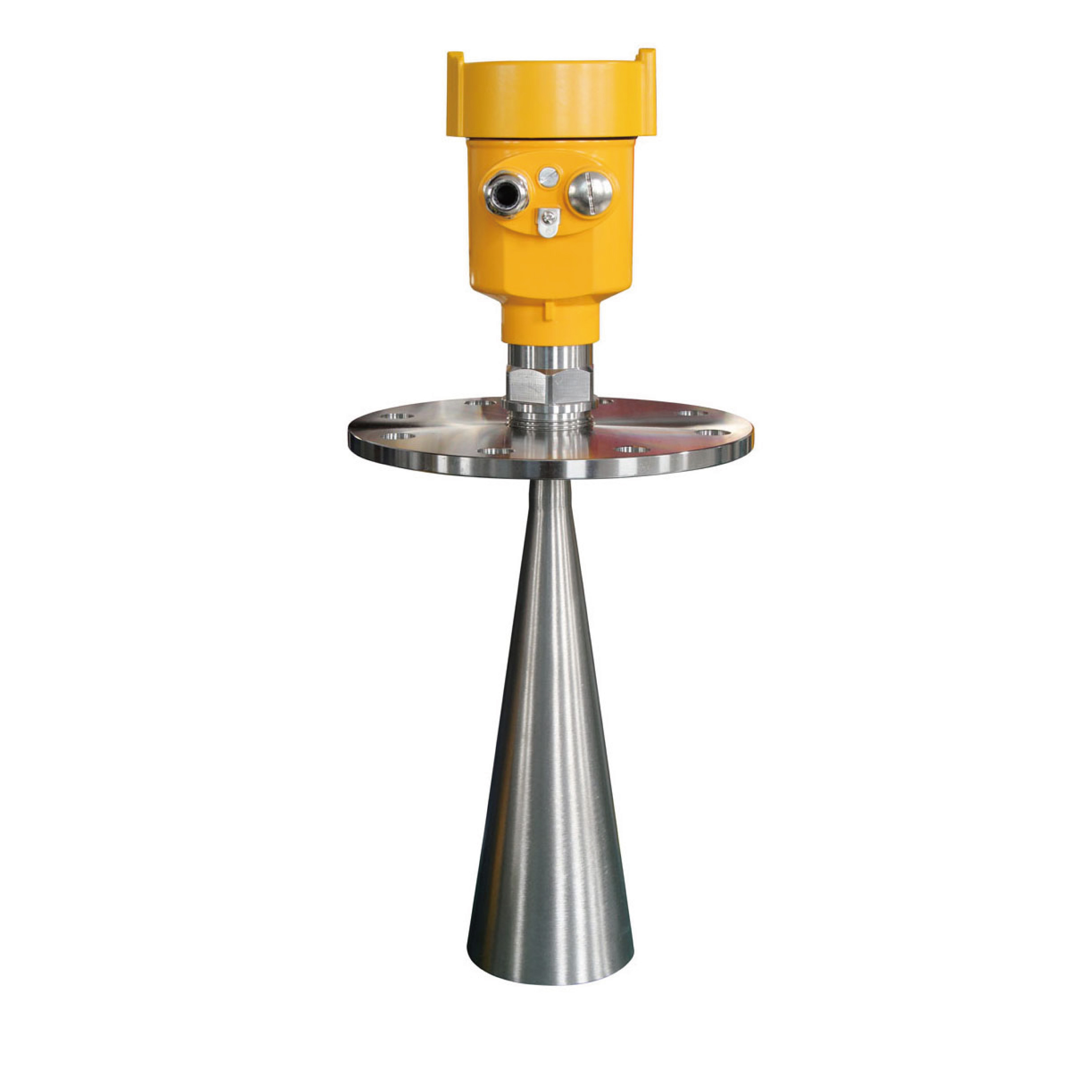 Illustrate
Ultrasonic level meter 26GHZ Radar level meter
ISO,CE,SGS certificates.
More 30 year technology accumulation.
More 80% meters for export.
9 consecutive years as gold supplier for export.
Benchmarking enterprises in Auto control&process instrument
26GHZ Radar level meter antenna by narrow microwave pulse, the pulse propagation in space at the speed of light, meet the measured medium surface, the part of the energy to be reflected back, by the same antenna. Emission pulses and the time interval of the received pulse and the antenna to the measured medium surface is proportional to the distance. Due to the electromagnetic wave propagation and very high speed, pulse and receiving pulse time interval is very small (nanosecond) it is difficult to confirm, 80X series of 26G radar level meter adopts a special demodulation technology, can accurately identify the transmitted pulse and pulse interval, thus further calculate the antenna to the measured medium surface distance.
Characteristics of water conservancy industry application for radar level meter:
1)Radar level meter adopts a recommended industry emission frequency of 26GHz,
2)It has beam angle is small, concentrated energy, has stronger anti-interference ability and greatly improves the precision and reliability of measurement.
3)Small antenna size, easy to install and dustproof cover antenna protection device.
4)Light weight about 1KG, easy to install.
5)The measurement range of up to 70 meters, covering a large reservoir water level measurement.
6)With a variety of output circuit interface and data acquisition system.
7)The pulse working mode, radar level meter transmit power is very low, no harm to human body and environment.

AK-RLM-808 26GHZ Radar Level Meter
Application: Rivers, Lakes, Shoal
Measuring Range: 30 meters
Process Connection: Thread G1½ A″ /Frame /Flange
Temperature: -40 ℃~ 100 ℃
Process Pressure: Normal pressure
Precision: ± 3mm
FrequencyRange: 26GHz
Protection Grade: IP67 / IP65
Power Supply: DC (6 - 24V) /Four-wire
The Signal output: RS485 / Modbus Protocol
The Scene Display: Optional
Shell: Aluminum / Plastic

AK-RLM-809 26GHZ Radar Level Meter
Application: Rivers, Lakes, Shoal
Measuring Range: 70 meters
Process Connection: Thread G1½ A″ /Frame /Flange
Temperature: -40 ℃~ 100 ℃
Process Pressure: Normal pressure
Precision: ± 3mm
FrequencyRange: 26GHz
Protection Grade: IP67 / IP65
Power Supply: DC (6 - 24V) /Four-wire
The Signal output: RS485 / Modbus Protocol
The Scene Display: Optional
Shell: Aluminum / Plastic

AK-RLM-810 26GHZ Radar Level Meter
Application: solid, strong dust,crystal and moisture condensation condition
Measuring range:: 0-80m
Medium temperature: -40~250℃
Process pressure: -0.1~0.1MPa
Accuracy: ±15mm
Protection: IP67
Frequency: 26GHz
Protection: Exia ⅡC T6 Ga/Exd ia IIC T6 Gb
Output:4...20mA/HART(2 wires/ 4 wires)