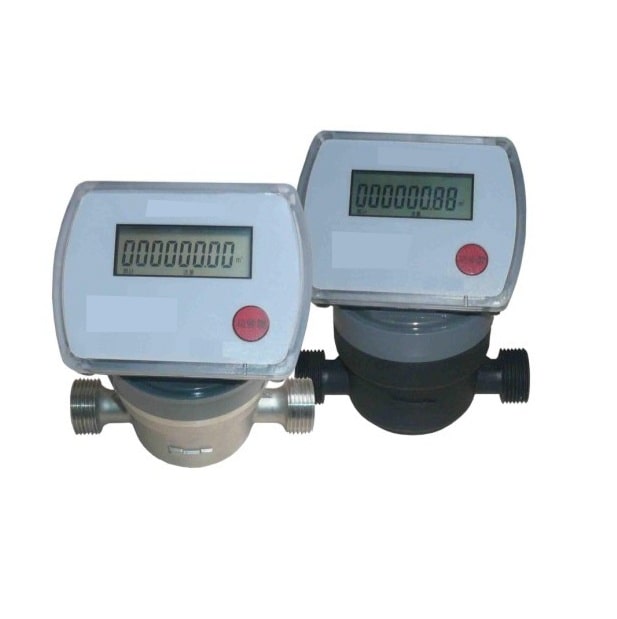 Illustrate
AK-DWM Digital Water meter can be used to measure liquid
Summary
The digit water meter is suitable for single-direction water flow, can not used in corrosive liquid. The property is stable and reliable, high accuracy, long working life.
Characteristics
1. Digital display, easy to read, display total flow and current flow, measure the total flow in a certain time.
2. Display high resolution total flow in test mode, the minimum resolution of small size is 0.00001m3.
3. With Modbus and RS485 communication module, can achieve long-distance meter reading. It is low-consumption, built-in Li battery, and can match a remote display.
4. With reset function, when enter into test mode, the total flow can reset, it is more suitable for industry dosing.
Signaling principle
The impeller rotation causes the flip of a magnetic field, magnetic field turn every week, wiggins send out a set of positive and negative pulse. Pulse frequency related to impeller rotational speed (magnetic filp frequency), each positive and negative pulse width approximately 20-30uS, pulse height not less than 1. 5 V.
Operating voltage: 3 ~ 6 V
Working current: static one is less than 1ua; maximum speed is less than 3ua;
Output: rectangular wave. (high level is equal to the supply voltage);
Wiring: nether positive nor negative electrode
Environment Condition:
a. environment class:A
b. water temperature:4-95C
Working pressure: P</=1.0Mpa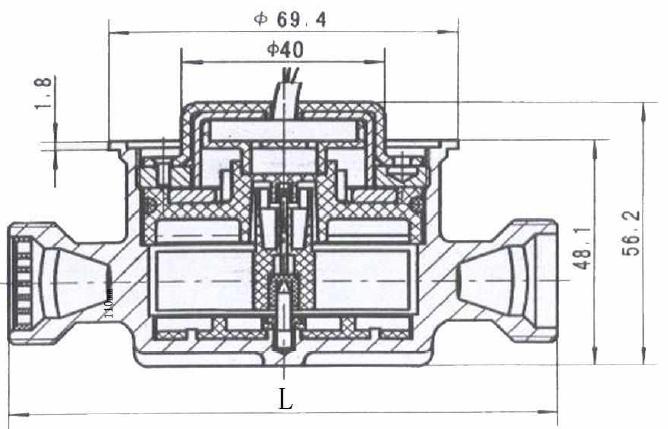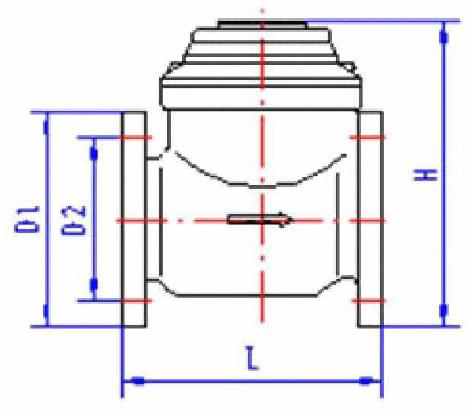 Model

Nominal Size

Overload Flow (m3/h)

Normal Flow (m3/h)

Dividing Line (L/h)

Min. Flow (L/h)

Coefficient
(n/l)

L (mm)

CXCL-15

15

3

1.5

120

30

30.4

110

CXCL-20

20

5

2.5

200

50

18

130

CXCL-25

25(Qn2.5)

5

2.5

200

50

18

130

2 multi flow tube flow meter property parameter
Model

Nominal Size

Overload Flow (m3/h)

Normal Flow (m3/h)

Dividing Line (L/h)

Min. Flow (L/h)

Coefficient
(n/l)

L (mm)

CX-DWM-15

15




3

1.5

120

30

29

130

CX-DWM-20

20

5

2.5

200

50

21

130

CX-DWM-25

25

7

3.5

280

70

16.3

130

CX-DWM-32

32(Qn3.5)

7

3.5

280

70

16.3

130

CX-DWM-40

40(iron hosing)

20

10

800

200

3.8

200

CX-DWM-50

50(flange)

30

15

3000

450

4

280


3 dismountable level with magnetic flow meter property parameter
Model

Nominal Size
(mm)
Overload
Flow (m3/h)
Normal
Flow (m3/h)
Dividing
Line (m3/h)
Min. Flow
(m3/h)

L (mm)

B
(mm)

H (mm)

flange
OD
(D1)
bolt center
diameter(D2)

CXLGC(R)-50E/W

50

30

15

3

0.45

200

165

247

165

125

CXLGC(R)-65E/W

65

50

25

5

0.75

200

185

257

185

145

CXLGC(R)-80E/W

80

80

40

8

1.20

225

200

265

200

160

CXLGC(R)-100E/W

100

120

60

12

1.80

250

220

275

220

180

CXLGC(R)-125E/W

125

200

100

20

3.00

250

250

285

250

210

CXLGC(R)-150E/W

150

300

150

30

4.50

300

285

319

285

240

CXLGC(R)-200E/W

200

500

250

50

7.50

350

340

346

340

295

CXLGC(R)-250E/W

250

800

400

80

12

450

395

432

395

350

CXLGC(R)-300E/W

300

1200

600

120

18

500

445

450

400

445
4 measuring error
a. the lower area from include min flow (Qmin) to do not include dividing flow(Qt) is +/-5%
b. the upper area from include dividing flow (Qt) to include overload flow(Qs) is +/-3%